The Bulletin: Suing the CIA over mind-control experiments, our crumbling downtown, and a new comedy festival [Issue #19]
The Bulletin is a collection of what's happened, what's happening, and what's to come in and around Montreal.
Photo: Manny Fortin / Unsplash
Montreal is a city of beautiful dichotomies. It is Janus-faced, a split personality balancing beautiful days of beautiful people doing beautiful things with bleak undergrounds, hellish weather, and crumbling city cores.
That's what this issue is all about, the yin and the yang, our underbelly and our upper crust, our triumphs and our tribulations. Case in point: In the last 48 hours, we shed our layers and drank in sunny parks one day, and were sitting in the dark writing this newsletter on a dying battery the next as nearly half the city lost its power in an ice storm.
If Montreal were a Dungeons and Dragons character, it'd be chaotic neutral. Not quite good or bad, it'd be a rebel hedonistically doing as it pleases while trying tnot to infringe on anyone else's good time. Montreal ain't the Joker, and it's not Batman. It's more like Catwoman, watching the action happen.
Thing is, whether it's good or bad, there's always something to look forward to.
The sun will rise again. We just hope the power will come back on.
---
Weekend events you don't want to miss
Catch up on what's happening during the first weekend of spring.
If you know something we should know, reach out to us on Instagram or by email.
Sunday
At this first-ever brunch at Foxy, this Easter brunch is a 4-course menu that includes an aperitif, a choice for the main course between salty or sweet, and more.
With bottomless mimosas and a build-your-own caesar station, the upcoming Easter buffet at the Cartier Arms has stations for full English breakfasts, roast ham carving, bagels and lox, and more.⁠
---
---
What you need to know
ICYMI: A weekly round-up of the latest local news, from food and entertainment to current affairs and more.
Suing the CIA over mind-control experiments
A class-action lawsuit by victims of the CIA's infamous brainwashing experiments in Montreal, MKUltra, was proposed to Quebec's highest court recently to remove the United States government's immunity. If—and that's a big if—it goes through, that has huge implications for suing the world's most dominant power. (CTV News)
---
It's not like they had anything better to do
This past week included April Fool's Day, and politicians took time to tell us about their album releases, Twitch streams, and beer launches—you know, instead of doing their jobs. (Montreal Gazette)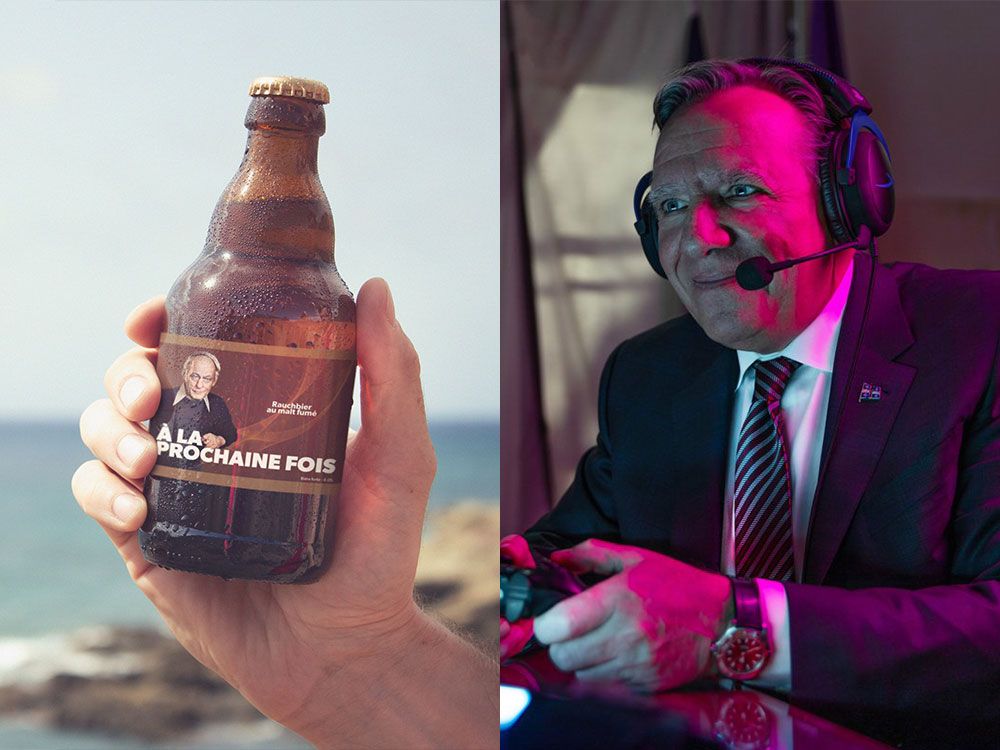 ---
Falling apart, brick by neo-Gothic brick
First two buildings including Super Sexe burned down in a gigantic fire in 2021, and now another's falling apart: The Jaeger building and its neo-Gothic facade dating back to 1914 began crumbling a few days ago, prompting a whole section of Sainte-Catherine Street to shut down. (La Presse)
---
Keepin' it real in Chinatown
While this story calls it a 'hidden gem', let's be real: Everyone knows Dobe & Andy in Chinatown. It's a new generation running its well-known, diner-style restaurant, and they survived the pandemic thanks to good vibes, Hong Kong-style barbecue pork, and an excellent crew. (Tastet)
---
Rats, coked-out ballerinas, pizza slices, and yup, that's piss
Yup, sounds like Berrio-UQAM, alright: The STM network's busiest station has become more unpredictable than ever, and some passengers try to avoid it altogether if they can. This here's a first-hand account of a day spent inside it. (Urbania)
---
The Village: A patient dying on the table
Despite seeing increased activity in the summer with millions of visitors, Montreal's Village has been deemed a "humanitarian crisis" by the Plante administration due to homelessness, filth, and mental health crises. Here's what they plan to do about it. (Le Devoir)
---
A history of coffee in Quebec
This retrospective on Quebec's relationship to coffee throughout the 20th century is an interesting time warp back to when espresso was exotic, there were atomic coffee pots, and Brûlerie Saint-Denis was the coolest thing since roasted beans. (Radio-Canada)
---
Head north, young designer.
Despite the rise of fast fashion, creators are finding affordable studios and building a community out of Montreal's Garment District, making the Mile End passé by comparison. Meet the new wave of designers now calling it home. (NUVO)
---
[insert crab meme here]
Look around Montreal's restaurant scene and you'll be seeing the first few catches of snow crab this season. Demand for the product has skyrocketed in recent years; here's how fishing families brave the dangers of the Saint-Lawrence for a catch. (BESIDE)
---
Turning life into ghosts
Part artist, part documentarian, Alexander Henderson's photography is a window into a crucial period in Canadian history, capturing everything from British colonialism and white encroachment on Indigenous land to a massive influx of industry in Montreal fuelled by immigrants. This is his story. (Maclean's)
---
Tweets of the Week
The best local moments this week from out of the Blue:
---
That wraps up this week's edition. We'll be back with more curiosities, local stories, and events to discover next week.
And if ever you catch something we should know, reach out to us on Instagram.
Thanks for reading.
Hope you didn't lose your power in Ice Storm 2: The Sequel.