The Bulletin: How King Tut's tomb influenced Montreal architecture, beef jerky that gets you high, and the results of Nuit Blanche [Issue #14]
The Main's Montreal Bulletin is a collection of what's happened, what's happening, and what's to come in and around Montreal.
The Empress Theatre in its glory days. The building, located on Sherbrooke Street in the NDG borough, has been vacant since 1992.
If it wasn't for the big ol' dumptruck's worth of snow that fell on the city this week, we might be thinking the first day of spring is here... or at least close enough. Sadly, and yet unsurprisingly, the weather here sucks Youpi's furry orange nuts most months of the year.
That said, we're not without hope. And though we may still be nursing hangovers from Nuit Blanche's pilot project of nearly two dozen bars staying open until 6 a.m., we've still got the energy to enjoy anything and everything there is to see and do this weekend. With everything from 1980s goth parties, Ukraine fundraisers full of blini, the Pink Floyd exhibition that's actually pretty impressive, sugar shack events—there's a lot to do in Montreal this weekend, so take your pick.
Feel like staying home? Try the SQDC's new beef jerky. More on that below.
---
Weekend events you don't want to miss
Read below to become the 'local guide' your friends always dreamed of.
---
What you need to know
ICYMI: Presenting a weekly round-up of the latest local news, from food and entertainment to current affairs.
---
Montreal's bars and venues were open all night long for Nuit Blanche—but was it chaos?
Nearly twenty establishments on Saint-Laurent Boulevard remained open later than usual for Nuit Blanche, and the pilot project is being hailed as a success. However, as good as business was, the surprising consensus is that most business owners are saying they don't want it all the time. (Le Devoir)
---
The influence of King Tut's tomb on Montreal architecture
It's been a century since King Tut's tomb was unsealed, bringing on a revival of interest in ancient Egyptian art at the time. In Montreal, the exoticism was celebrated in buildings like a downtown synagogue and NDG's Empress Theatre that served as a supper club and theatre back in the day. (CTV News)
---
Would you rather win the lottery, or find prison contraband in your backyard?
A Montreal man says he found $45,000 worth of prison contraband containing cannabis, cell phones and other goodies hanging from his clothesline last week. Originally bound for Bordeaux jail, the seven-metre-long sealed package was to be delivered via drone and snaked into a cell through the window. (Radio-Canada)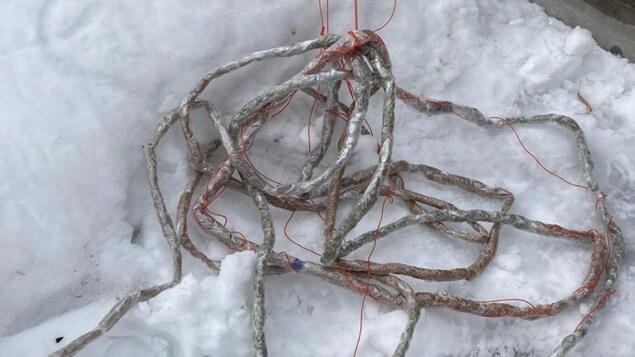 ---
First dried fruit that gets you high, now beef jerky
The SQDC's joyless family of legal cannabis edibles has gotten a new and apparently popular addition: THC-infused beef jerky. Each piece of salty dried meat contains 4.5 mg of THC, a relatively low dose, with the effects taking up to 60 minutes to set in and lasting for upwards of eight hours. (MTL Blog)
---
A new city-within-a-city for Montreal's Blue Line expansion
Roughly 14,000 new housing units capable of accommodating 28,000 people are planned to emerge from the ground around the extension of the Blue Line of the Montreal metro. That's roughly the same size as Magog, Boisbriand or Saint-Bruno, and it's going to take some serious urban redesign. (La Presse)
---
The South Shore's getting a new airport, but not everyone wants it
Porter Airlines is partnering with the Montreal Saint-Hubert airport to develop a 225,000-square-foot terminal as the company aims to broaden its footprint in Quebec. Thing is, not everyone is happy with the airport's expansion plans to serve up to four million passengers a year. (Global News)
---
What quarantining in a Montreal basement taught one out-of-towner
Back in 2020, Sydney Baker had to find a new temporary place to live, and ended up in a basement suite on the South Shore. Thanks to being confined underground with low ceilings, a lack of natural light, and limited space to move around, she had some revelations about what she considers liveable. (Dwell)
---
We're kind of into this winter greenhouse made out of tempos
A series of temporary carports or 'tempos' have been converted into greenhouses growing everything from lettuce and cabbage to bok choy, radishes and greens. The project's supported by the borough, and was created by an urban agro research group and food advocacy group working together. (CBC Montreal)
---
Bonjoor-He!
The Quebec government's language watchdogs over at the OQLF have found that 74% of businesses made language errors—typos, spelling or grammatical errors, anglicisms, and syntax errors—on public-facing signage in Montreal, Quebec City, Sherbrooke and Gatineau in 2021. (CTV News)
---
A Montreal museum experience that makes you feel like a bug by design
Montreal's Insectarium goes way back, and—we think—generally gets looked at as an activity for kids. Its revamped architectural design, however, says different: The insect zoo and museum's interiors are made to emulate the experience of being a bug. Get a sense of the space with these photos. (Dezeen)
---
Tweet of the Week
Quickly becoming our favourite part of the weekly newsletter, we got two for you this week:
---
That wraps up this week's edition. We'll be back with more curiosities, local stories, and events to discover next week.
If ever you catch something we should know, reach out to us on Instagram.
Thanks for reading.
Don't forget to sign up!