The Bulletin: Bootleg Chinese menus, dead ends in the Underground City, and a corporate casket for Montreal's neon signs [Issue #15]
The Main's Montreal Bulletin is a collection of what's happened, what's happening, and what's to come in and around Montreal.
Sainte-Catherine Street at night, 1952
This past week's been a weird one.
Maybe it's a spring break that doesn't feel like a spring break to anyone who's adulting outside of educational institutions. Maybe it's those pig carcasses hung in protest of animal cruelty, or maybe it was that UFO sighting that freaked people out (which turned out to be helicopters)?
How should we know what's causing it? All we know is that the vibe's been weird and there are probably even weirder times ahead.
That said, we'd rather have something weird than something boring: This weekend's got a Spongebob Squarepants-themed rave, storytelling sessions about doing drugs, Madonna burlesque performances—hell, even our sense of time will feel off as clocks move forward an hour on March 12 (last call's at 2am, people!).
All you gotta do is read on to see how weird things get.
---
Weekend events you don't want to miss
Read below to become the 'local guide' to everything weird and wonderful coming up.
If ever you catch something we should know, reach out to us on Instagram or by email.
Friday
Attend the first weekend of this new acrobatic performance in one of Montreal's most unique circus venues with Le Monastère's Cabaret de cirque!
People use drugs, legal or not, and Frigo Vert wants to hear those stories—how they made us cry, laugh, build or strained our friendships and relationships.
Happening Gourmand continues for its milestone 15th edition, where 11 Old Montreal restaurants will offer table d'hôte brunch and dinner menus at a reduced cost.
Sunday
It's Open Mic with the one and only Avery Jane at Bar de Courcelle. Come on down and show the community your good stuff! Sign up starts roughly an hour beforehand.
---
---
What you need to know
ICYMI: A weekly round-up of the latest local news, from food and entertainment to current affairs.
Without its neon, Montreal's going to look like every other city
"Up until the 1970s, Ste-Catherine Street was aglow with neon signs of all descriptions," says Arizona O'Neill, noting that the visual landscape of the city's downtown is downright corpo compared to the yesteryear. So what led to this disappearance of downtown's signs? (CBC Montreal)
---
What's a pledge for social housing mean when this building sits unused?
A large building on NDG's Walkley Avenue was once a public housing complex and home to more than a dozen families, but it's been sitting empty since 2014, with locals simply watching it rot since. Many say it's one of the most egregious examples of a woefully underfunded system. (CBC Montreal)
---
One weird outcome from the OQLF: Bootleg Chinese menus
According to Gazette columnist Josh Freed, the handwritten wall signs listing certain specialties in Chinese-only characters had disappeared from one of his favourite restaurants in Chinatown due to Quebec's language police, with the proprietors handing out Chinese menus on the sly. Are fortune cookies next? (Montreal Gazette)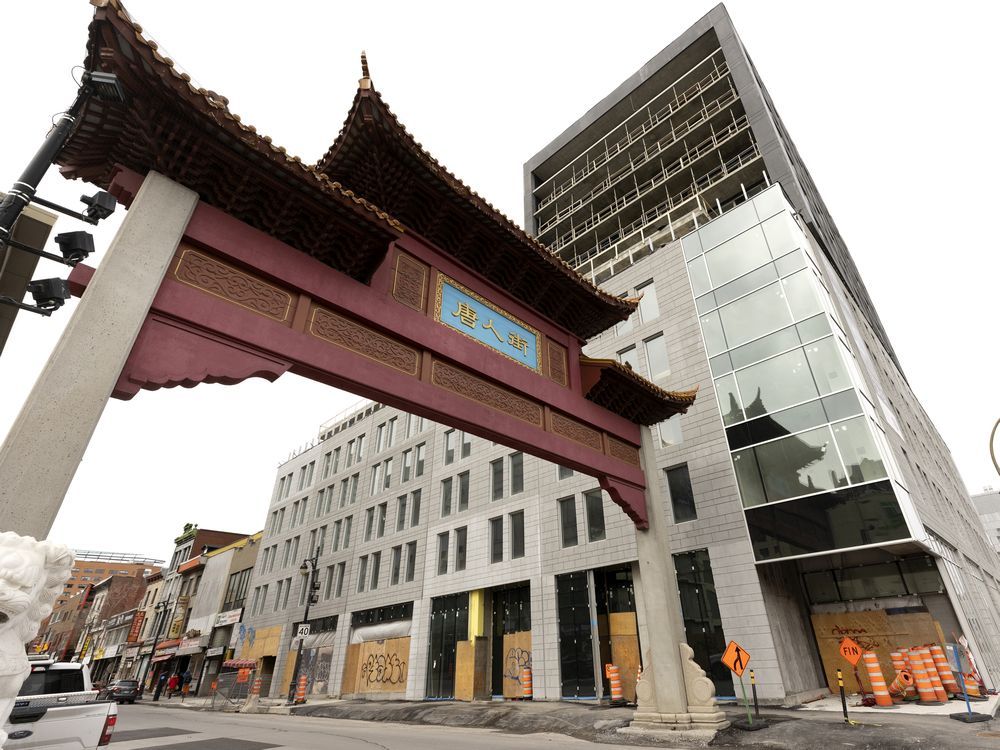 ---
Did one of downtown's most infamous fast food joints bite the dust?
C'est la fin d'une époque: Drunken stumbling through the menus of the Belle Province at the corner of Saint-Laurent and Sainte-Catherine will have to take itself someplace else, as multiple sources are reporting that the 'for rent' sign has been hanging over papered-up windows a bit too long. (Silo 57)
---
A complete facelift in the Sud-Ouest
The city's Reinventing Montréal initiative for green transitions has announced its winning proposition for the transformation of a 28,000 m2 industrial site in the Sud-ouest. Take a look at Sid Lee Architecture's winning submission for a circular economy community project that's technolumberjack-esque. (City of Montréal)
---
The Haitian urban planner who revitalized Old Montreal
In 1965, urban planner Georges Bonhomme arrived in Montreal for a weekend, but ended up staying to contribute to the development of more than 84 social housing programs, the establishment of approximately 14,000 housing units, and helped completely reshape Old Montreal as we know it. (MIROIRINFO)
---
Journey to the centre of Montreal
Somewhere in between the disillusioned opinions and fascinated praise people have for the Underground City, our 33km network of interconnected shopping centers downtown, there was one local newsletter writer who decided to document its liminal space. (Ooof! Bong!)
---
How does Montreal's grid layout compare to the rest of the world?
Thanks to digital mapping, the relative orderliness of different cities' street systems can be calculated, with Chicago having the world's most consistent, orderly grid layout of them all. So how does Montreal compare? Let's just say our idea of 'Montreal' north and compass north matters. (The Economist)
---
Just when you thought the Airbnb situation couldn't get worse
Bill 67, a law allowing Quebecers to rent their homes for short-term stays through platforms like Airbnb will come into effect later this month. Housing advocates, however, say it doesn't bode well for neighbourhoods that see their available housing stock being eaten up. (CTV News)
---
Tweets of the Week
The best local moments this week from out of the Blue:
---
That wraps up this week's edition. We'll be back with more curiosities, local stories, and events to discover next week.
If ever you catch something we should know, reach out to us on Instagram.
Thanks for reading.
Maybe tell your friends about us if they're cool enough.