The Bulletin: Should Montreal's restaurants charge for no-shows? A townhouse you can't miss... and more! [Issue #2]
Everything you need to know for the last weekend in November.
Another week, another Montreal Bulletin, The Main's weekly collection of what's happening, what you might have missed, and what's to come in Montreal.
This week's equal parts live music, wine-drenched festivities, art fairs, and slighted local businesses—in other words, an average weekend in the city.
This weekend in Montreal
---
Finally, if you're planning on staying home and going shopping, don't fret just yet about lettuce inflation—one Montreal producer is looking to offer a solution.
Montreal's Top Stories: What you need to know
---
Opinion: Returning to Montreal was the best move I ever made
Wondering if you're meant for Montreal? Thinking about the big business of Toronto or the provincialism of Ottawa as an option, but looking for a reason to stay in the 514 (or the 438 or 263)? Consider reading this opinion piece from Graham Wright, where he counts all the ways why you would love it. (link)
---
Montreal documentary about the fight to save Chinatown
There's big trouble in little Chinatown: Existing at the intersection of racism and urban planning, take a sneak peek at this documentary covering the gentrification pressures that these neighbourhoods face. Montreal is featured alongside New York City, San Francisco, Toronto and Vancouver. (link)
---
A New Tapas Spot in Saint-Henri Has a Party Vibe and a Mos Eisley Cantina From 'Star Wars' Look
Fried chicken pop-up-turned-restaurant Bucky Rooster's is a success story from the COVID-19 pandemic's impact on the restaurant scene, but it wasn't the restaurant its owners were intending to create. Now they're revisiting the original project in a space that looks like "Jabba the Hutt's bar on Tatooine". (link)
---
Atelier Pierre Thibault completes Montreal townhouse around sculptural staircase
The staircase is calling from INSIDE THE HOUSE: Exterior spiral staircases are no longer allowed under modern building codes in Montreal, so a Quebec City design studio to include one inside a home to connect its upper storeys. Fun facts aside, it's just a gorgeous project. Enjoy the eye candy. (link)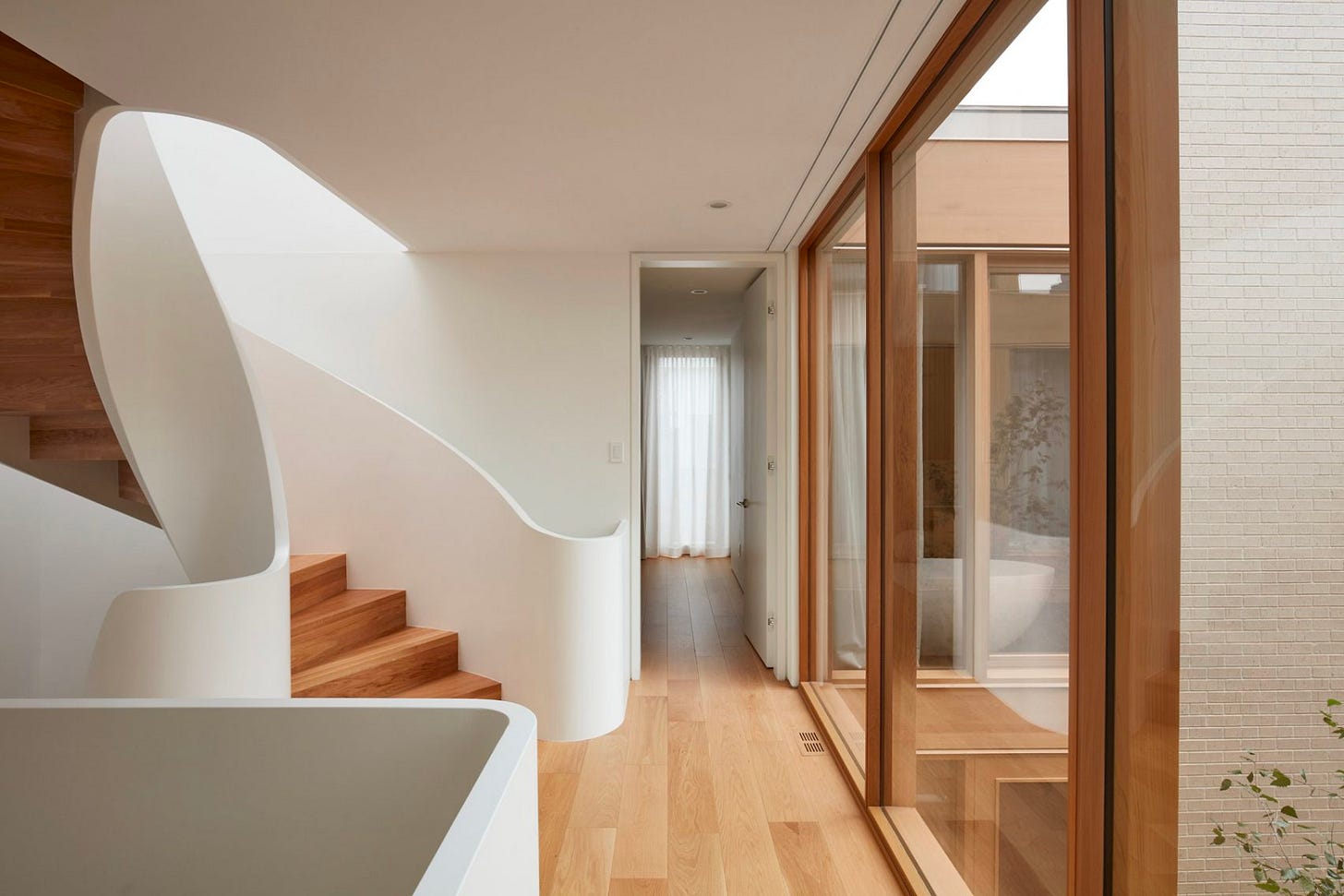 ---
Quebec restaurants asking province to let them charge people for no-shows
An association representing more than 6,000 restaurants in Quebec is petitioning the provincial government to make it possible to charge a fee—anywhere form $5 to $20—for reservations with no-shows. It's already taking place in other provinces, so why not Montreal? (link)
---
Largest art heist in Canadian history still a mystery after 50 years
It's not the Italian job, it's le Montréalais job: The mysteries of Canada's largest-ever art heist remains unsolved after half a century. Shotgun-toting thieves managed to enter the skylight of the Montreal Museum of Fine Arts and steal what was then worth $2 million in paintings (roughly $7 million today). (link)
---
The Story Behind Lucie from Lafleur, Quebec's New TikTok Obsession
The poutine and hot-dogs of Lafleur—that's right, the green, white, and yellow fast food chain—has a new TikTok star, and her name is Lucie. Having worked at Lafleur since 1985, she's your classic ma tante who jumps on memes and tells it like it is. Honestly? She's adorable. (link)
---
Toppled John A. Macdonald statue shouldn't be put back, Montreal committee advises
Ever since a bronze statue of Canada's first prime minister in downtown Montreal's Place du Canada park was pulled to ground by protesters in 2020 following the death of George Floyd, people are saying that even though his likeness is gone, history isn't quite fixed yet. (link)
---
The Living Room in This Montreal Renovation Channels Ski Chalet Vibes
What's an apartment in Montreal look like if it's redesigned to resemble a weekend in the wood during winter? Scope the angles of this new 1,700 square foot creation from local firm Naturehumaine and get inspired for your own weekend out of town this season. (link)
---
Sign up to receive our newsletter straight to your inbox every week!