The Bulletin: It's June, it's hot, and we love it [Issue #27]
The Bulletin is a collection of what's happened, what's happening, and what's to come in and around Montreal.
Mont-Royal Avenue through the lens of
Jamshed Khedri
While we're usually thinking of Laurent Paquin's song Chant sacré when we're buried under six feet of snow, maybe we could turn that around to be about heatwaves?
Cut your engines and crank your A/C: It's the first heatwave of the year, and it ain't even summer yet. If you're like us, you're probably melting a bit while you're reading this, so we'll keep it quick: Even though a pool to yourself out in the off-island burbs might seem like a good idea, you won't have anyone to enjoy it with. We ain't bringing a sixer out to your place in Laval, Jerry.
Instead, once the heat breaks—and it should, osti tabarnak, by this weekend—there's going to be plenty to do and see.
---
Weekend events you don't want to miss
Not seeing something on the list you think we should know about? Hit us up by Instagram to let us know.
Thursday
Friday
Saturday
Sunday
---
---
What you need to know
ICYMI: A weekly round-up of the latest local news, from food and entertainment to current affairs and more.
Bière froide, sick mush
You may have seen it as far back as a year and change: While the production, sale and possession of magic mushrooms are illegal in Canada, ads for magic mushrooms have been popping up around the city on street-posts and in dep windows. (Le Devoir)
---
A cut o' meat above the rest
Local photographer Scott Usheroff (@cravingcurator) has been shooting the city's food scene for a while now, so we asked what he thinks of our diverse gastronomic scene and what his 'must-try' dishes are. Don't read when hungry. (The Main)
---
On eating, sex, and intimacy
Filmmaker, visual artist, restaurateur, and sex-toy company co-founder Khoa Lê is interviewed about his dual Viet-Quebecois identity, what he's working on, and a cool recipe for glass noodles with clams over a fire on the side. (Beside)
---
Don't turn down that racket
In 2016, a building next to La Tulipe was purchased, but the wall that separated them was poorly insulated and—surprise surprise—noise complaints started to flood in. Question is, will the venue be another NIMBY victim? (La Presse)
---
And no, it won't just be a bunch of new drawn lines
Part of the Vision vélo 2023-2027 program unveiled by Montreal last fall, over 50 cycling projects totalling 60+ kilometres to further entrench a growing network on the city's streets is beginning, so how big and ambitious will it get? (Radio-Canada)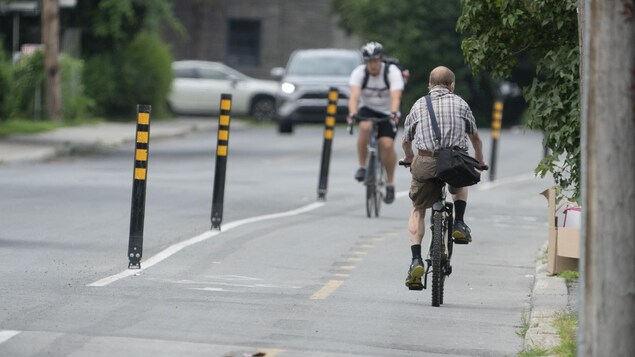 ---
Thar she burns
The blaze lasted for more than 42 hours: The Monastère du Bon-Pasteur, a 19th century former monastery, quickly became a five-alarm fire requiring 150 firefighters, and barely anything was salvaged except for a Fazioli concert grand piano and a Kirkman harpsichord from 1772. (Global News)
---
So, like Jurassic Park, but with French Canadian populations
By tracing the ancestry of millions of individuals over space and time, this study of the genetic structure of French Canadian populations provides in-depth insights into humans' complex genetic tapestry. (McGill Channels)
---
Deconstruction over demolition
After 60 years, the Champlain Bridge is being taken apart piece by piece, but will live on as wristwatches, public art, a greenhouse, a bicycle, and other items. Pretty cool if you can snag a (time) piece of a bridge, if you ask us. (The Globe and Mail)
---
Neeeeeeeeerrrrrrrrds!!!
A week ago, CBC gave us a look at early forms of movie fandom in Montreal, complete with long line-ups at the theatre, screaming in costume to see what was going to happen to Luke & The Gang. (CBC Montreal)
---
This ain't your average mob
In an interview for the Gaztte's Corner Booth podcast, ex-cop Pietro Poletti was interviewed about a 'new Mafia' that could lead to violence at a level the city hasn't seen in a long time, while giving an extensive history of local organized crime families. (Montreal Gazette)
---
In Other News
A look around the Internet offered up these little gems:
Pianist Alexandra Stréliski surprised everyone when she dropped in for an unannounced performance right in front of the Esplanade to Place des Arts on May 19th.
---
In the market for some new tunes? Montreal artist Dan Climan (you've undoubtedly seen his works in a number of restaurants around town) dropped a playlist last week for y'all to enjoy.
---
That wraps up this week's edition. We'll be back with more curiosities, local stories, and events to discover next week.
And if ever you catch something we should know, reach out to us on Instagram.
Thanks for reading.
Stay cool—literally. Don't die.