The Bulletin: This week's top stories and the best events happening in Montreal this weekend [Issue #4]
@espacepourlavie
Bonjour-hi and bienvenue-welcome to the Montreal Bulletin, The Main's weekly collection of what's happening, what you might have missed, and what's to come in Montreal.
This week focuses on what COP15 is and why people are pissed/excited about it, places to grab last-minute gift ideas, and—surprisingly—a lot of video games and nostalgia.
Sign up to receive this straight to your inbox.
This weekend's events
If the persisting lack of snow has got you down, just know that you can see huge holiday installations to rekindle your spirit in Old Montreal or with the Legend of the bears lining Sainte-Catherine.

All of Montreal: What you missed this week
---
What is COP15? UN's biodiversity conference to kick off in Montreal
In a strangely titled article that makes it sound like the grandest of galas, you'll find an explainer on what the United Nations conference on biodiversity in Montreal is, why it's important, and a little bit about why it's causing the area around Chinatown to be gridlocked for the next two weeks. (via City News)
---
Protests begin in Montreal's downtown core
With any internationally important event like COP15—especially one in a protest-heavy city like Montreal—there's bound to be protests. And protests there are. Thousands are expected to march, and while riot gear is expected to get dusted off, the mayor says it should be celebrated.
---
Montreal's new ice polar bear exhibit will gradually melt to raise climate change awareness
Last thing we'll share on COP15, we swear: As part of the conference on biodiversity, a new art installation from Espace pour la vie has been created, Polar Bear on Thin Ice, where a polar bear's fur (represented by ice) will gradually melt to reveal a bronze skeleton underneath.
---
Why Advertising Feels Like a Form of Urban Pollution
Writer Alex Manley discusses how his experiences with bombardments of text and noise in daily Montreal life compares to major and mid-sized cities throughout the rest of North America. That turns into waxing poetic and philosophical about what makes living in this city so unique.
---
A doc about PVM worth watching
With its observation deck closed and only a restaurant left to experience its views from, Place Ville Marie exists in a strange state for Montrealers. In this 52-minute documentary, the intersecting stories of the lives deeply entrenched in its existence today are observed.
Watch here: Radio-Canada
---
Montréal en fête cancels New Year's festivities in the Old Port
If Montreal loves a party, it hates having a party cancelled. Citing galloping inflation, labor shortages and public underfunding, Merry Montreal's annual NYE bash in the Old Port has been nixed, and it comes as a blow when the rest of the city is trying to forget a pandemic.
---
Great news for Plateau restaurants
Weird that this decision was timed when Montrealers wouldn't be feeling so passionately about drinking and dining outdoors, but OK: The Plateau-Mont-Royal borough council has said it wants to incentivize even more terrasses on its streets, so that's something to look forward to in the Summer of 2023. (CTV)
---
Rotten meat could be easier to detect thanks to a new biosensor system developed at Concordia
Do you ever find yourself with meat you've lost track of in the fridge, only to be left wondering if eating it will be the way you die? Well, perhaps not for longer: Researchers have designed a new inexpensive and disposable way to detect the toxin putrescine in beef.
---
Montreal studio gets exclusive rights to Charlie Chaplin for upcoming video game
B Df'rent Games spent five years with Chaplin's family to get exclusive rights to the comic actor, filmmaker, and composer. It's unclear what kind of video game they'll make with the character, but the conditions are "No violence. No sexism. No racism. Genuine storytelling."
---
Carey Price apologizes for pro-gun social media posts ahead of Polytechnique shooting anniversary
Maybe you saw that Carey Price put up an extremely poorly-timed Instagram post about how gun laws need to be loosened. Now he and the Montreal Canadians have been in a state of hurried damage control to staunch their insensitive bleeding.
---
The lifeblood of Montreal's downtown core used to be office workers. Now, they're missing
Big surprise or no surprise? The Chamber of Commerce's recent surveys show 63% of Montreal's downtown workers have returned to the office one to three days a week, but fewer than half say they're satisfied at the office. Traffic and construction isn't helping that much easier.
---
The Flip Side
In Montreal, Jim Burke explains, French and English theatres set the stage for mutual understanding: There's a gulf of safe linguistic spaces between theatre makers, audiences and critics, so Montreal's theatres must facilitate "a reaching across the linguistic divide."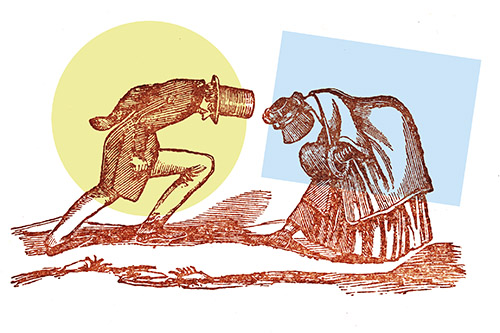 We hope you enjoyed this week's Bulletin! Share it with a friend and look out for next week's edition and more from The Main on IG.