The Bulletin: Who's the mother of Montreal? [Issue #24]
The Bulletin is a collection of what's happened, what's happening, and what's to come in and around Montreal.
A view of Hôtel-Dieu from Mount Royal, 1869. (Archives du Musée McCord)
Mother's Day is approaching this Sunday, which has got us wondering: Who's the mother of Montreal?
Maybe Valérie Plante? She's a mom with those, you know, mom vibes, and she's definitely leading a rebirth of the city—warts and all—in its environmentally-forward urban planning and progressive approach to citizenry.
There are a lot of women who helped put this city on the map: Musician and teacher Daisy Peterson Sweeney. Astronaut and engineer Julie Payette. Drag legend Mado Lamotte. Feminist advocate and activist Henrietta Muir Edwards. Nursing pioneer Nora Livingston. Business woman and inventor Agathe de Saint-Père. Journalist Joséphine Marchand. Artist and aboriginal rights' activist Ellen Gabriel. Organzier Berthe Chaurès-Louard.
Some would say Céline, even if she was born in Charlemagne, QC.
Pretty sure the title of Montreal's mother, though, goes to the New France healthcare practicioner Jeanne Mance. She and her colleague Paul Chomedey de Maisonneuve arrived on the island in 1642 and founded the city on May 17 that year. She created the Hôtel-Dieu Hospital, which still stands to this day.
This Sunday, join us in raising a mimosa to both your mom, and the city's.
---
Weekend events you don't want to miss
Catch up on what's happening during the first weekend of May.
---
---
What you need to know
ICYMI: A weekly round-up of the latest local news, from food and entertainment to current affairs and more.
No, not this Main, that Main
Big news covered by just about every outlet this past week was the abrupt closure of the alt-smoked meat restaurant The Main Deli, the latest likely victim of our perfect storm of labour shortages, gentrification, high food prices and pandemic closures are squeezing the restaurant industry. Here's one memorandum we liked. (Cult MTL)
---
Walk this way
Valérie Plante has announced her administration's intention to transform Old Montreal into a "kingdom of pedestrians" in order to make it more user-friendly, but local businesses say they weren't even notified. (Le Devoir)
---
A monument to inactivity
If that ain't just the most Montreal thing: Following the ice storm in early April, a tree trunk in NDG's become a tourist attraction after city employees left part of the trunk on the roof of a vehicle it crushed. (98.5 FM)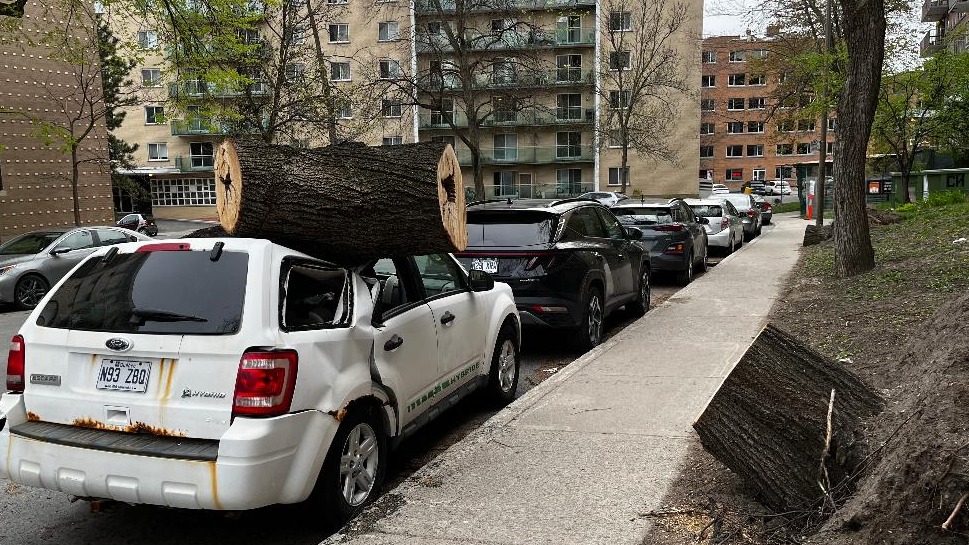 ---
This oughta be in the pictures
As we now generally look at COVID-19 in our rearview mirrors, gathering together is back in action. Among our favourite activities are open-air cinemas, and this outlet's done the work to track when and where they're happening this summer. (Journal Métro)
---
"Le vieux verger"
Local pub chain Ye Olde Orchard has been the latest prominent target of the OQLF, which went after their English signage that's been around since 1996. This recounting of the back and forth between the owners and our diligent language watchdog's just on a whole other level of absurdity. (Montreal Gazette)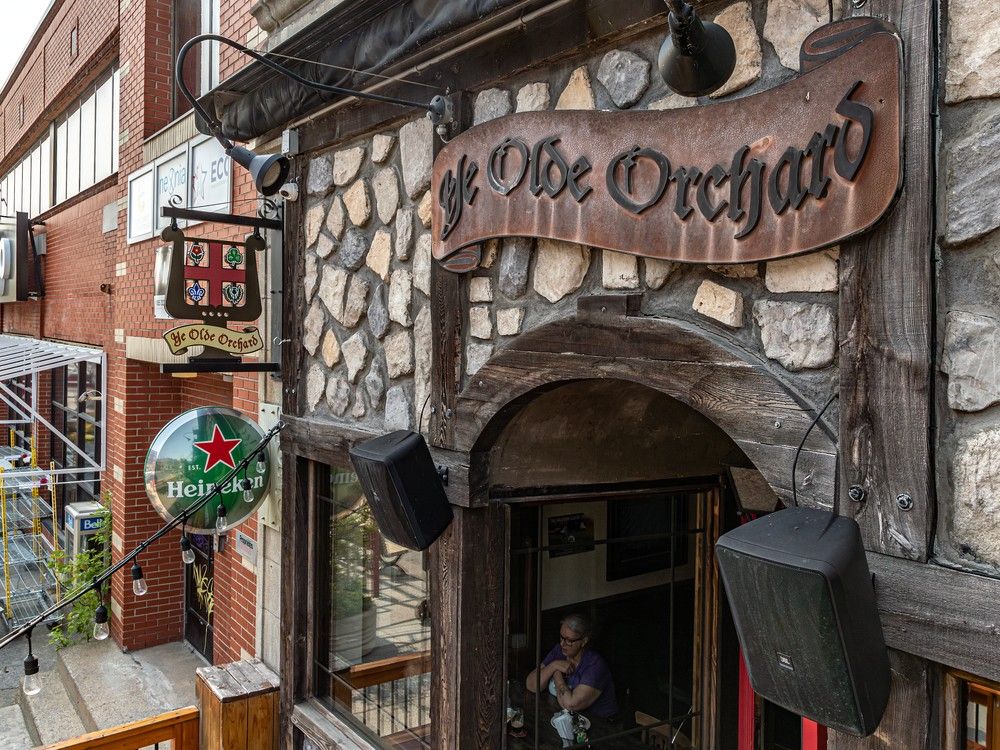 ---
A sign of the times
You likely noticed it—or maybe tried to take a sly whiz around it—during downtown festivals: The Church of St. John the Evangelist first founded in 1861 is joining the growing number of churches saying goodbye to the city. (CBC Montreal)
---
Braaaaaaains 🧟
Fun fact: The Douglas-Bell Canada Brain Bank, based at the Douglas Mental Health University Institute, has become one of the most important brain banks in the world. Founded in 1980, it currently houses and manages over 3,000 brains. Take a look inside. (Radio-Canada)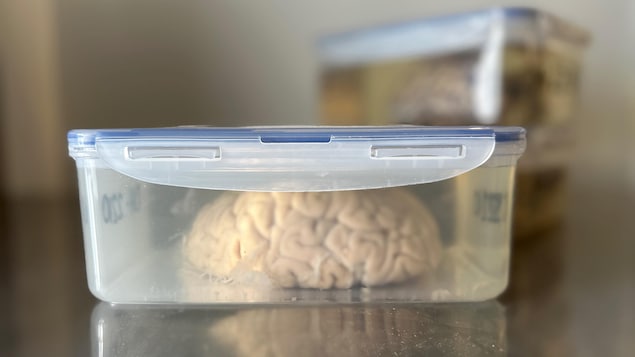 ---
From neon to a new face
It's been a long time since neon lights flashed and crowds congregated around the Saint-Hubert Plaza in La-Petite-Patrie. So how are its oldest residents of prom dress boutiques and hair extension retailers coexisting with restaurateurs and tattoo parlours today? (La Presse)
---
It's back with a twist
Les Premiers Vendredis, a festival bringing Canada's biggest collection of food trucks is returning with new programming this year: The creation of a central "Rue Culturelle", dedicated to a culture of a different community each month. (Time Out Montreal)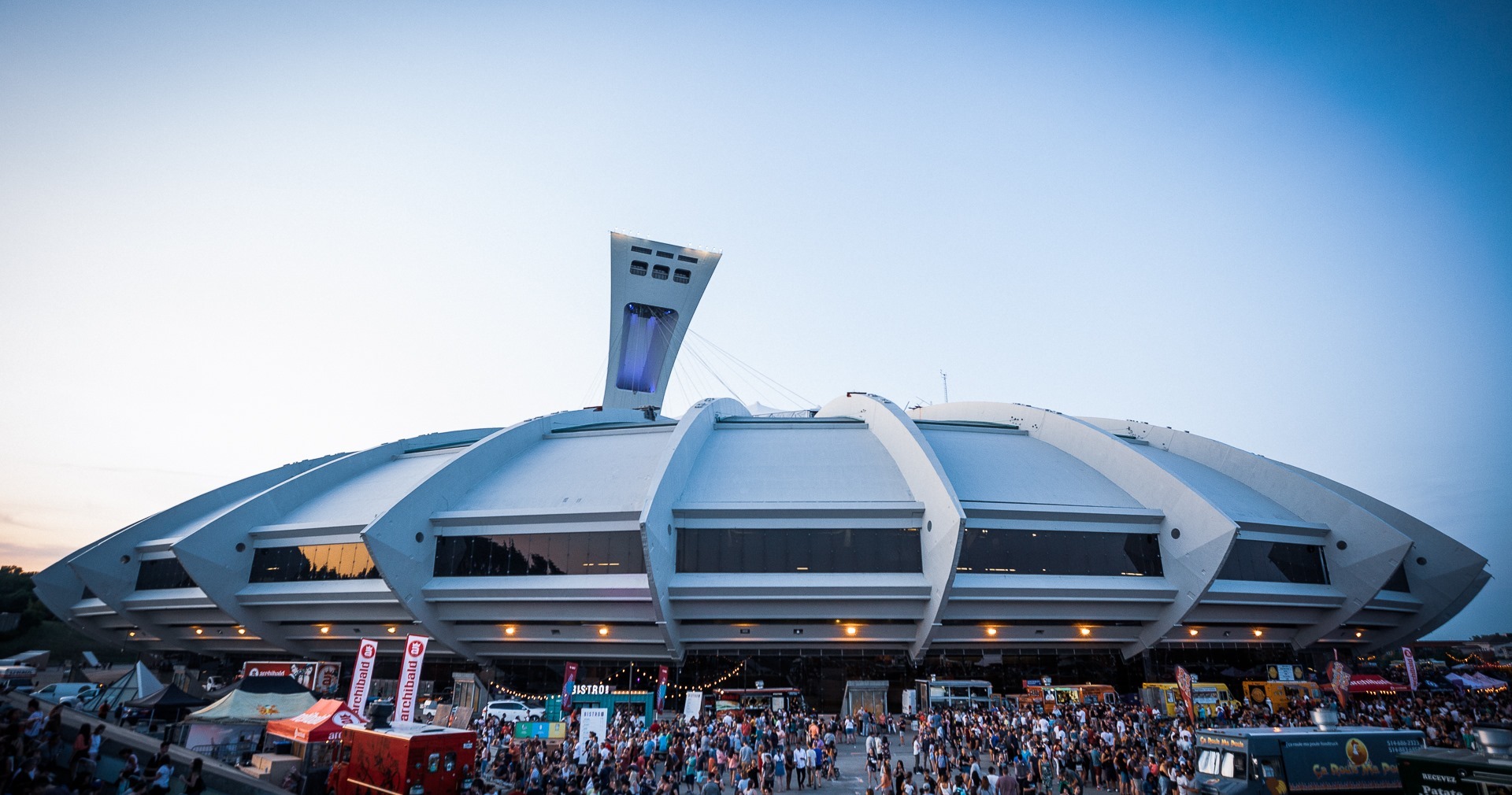 ---
Was Habitat 67 a failure?
Habitat 67 was a pilot project of architect Moshe Safdie to reinvent apartment living, but it was mired in controversy. That said, it remains a functioning icon of 1960s utopianism, and—believe it or not—was meant to be a model of affordability. (The Guardian)
---
Tweets of the Week
Our favourite moments from out of the Blue this week.
---
Special Mentions
Corridor Culturel is hosting a block party with four local musicians at Hangar 1825 this Sunday, May 14. Grab a 15% discount on your tickets with the code THEMAINCORRIDOR.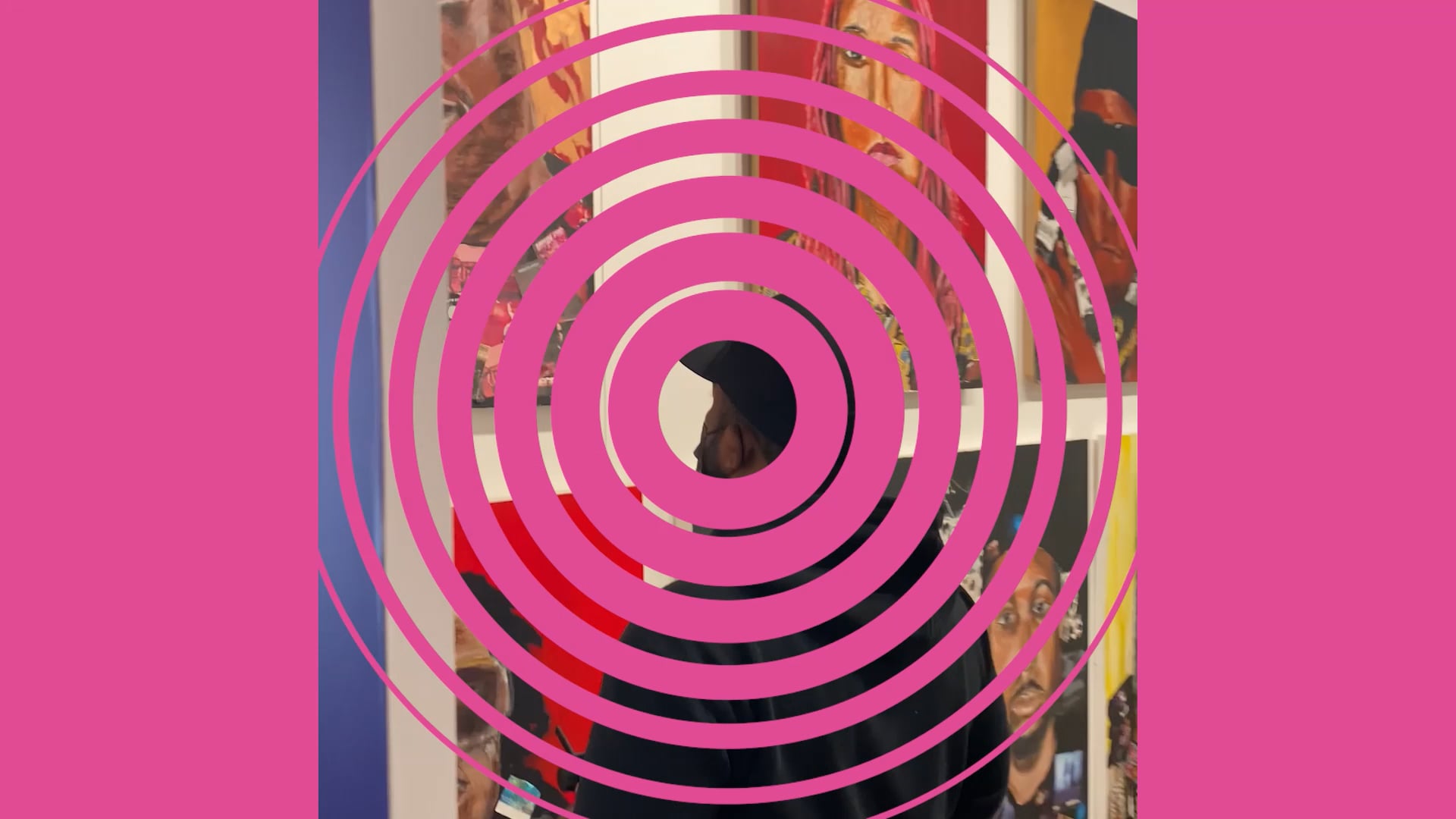 Gong Gong Gong will perform live at La Sala Rossa next Wednesday, May 17 at 9:15 pm. This might be one of those "dude, I can't believe you missed that" type of shows.
---
That wraps up this week's edition. We'll be back with more curiosities, local stories, and events to discover next week.
And if ever you catch something we should know, reach out to us on Instagram.
Thanks for reading.
Set a reminder on your phone to call your mom this Sunday.