The Bulletin: Halloween parties that won't suck 🧛‍ [Issue #48]
The Bulletin is a collection of what's happened, what's happening, and what's to come in and around Montreal.
Montreal's one and only Halloween celebration during its 375th anniversary, Trouble-Fête. | Photograph:
GRIDSPACE STUDIO
, Patrick Rochon
Back when the city was in the year-long throes of celebrating being in existence for 375 years, we were going all out with parties, artistic installations, and all kinds of other cool shit.
Those remnants—some amazing and some ridiculous—may not be on par with the collective creative energy of something like Expo 67, but it has left us with genuinely memorable relics that, if we were lucky enough to be around when they became part of the cityscape, will have a lasting impact on our lives.
Thing is, celebrations like Trouble-Fête for Halloween (pictured above) were a one time thing, and we're wondering: Why?
In a city of dancers, party-goers, culture vultures, and fetish festival attendees, you don't think we'd jump at the chance to have a parade filled with costumes and reasonably creepy but still kid-friendly stuff?
That's why this edition of the Bulletin's got its own section culling together this best parties we could find while slinging Tremblays and an SQDC home order over one weekend of clicking around. We're pretty proud of it.
Get out there this weekend. Give 'em pumpkin to talk about. 🎃
---
Halloween parties that don't suck
Dance it up
Booze it up
Spook it up
...and are you ready to C.R.E.A.M.?
The brainchild of Montreal-based director, curator and artist Ariana Molly, C.R.E.A.M. is an anagram for Cinematic Rave Experiments and Musings: A new hybrid of film, music, art, dance and performance in Montreal. (The Main)
---
...And now, other activities, parties, points of interest, art exhibitions, you name it: These are the weekend events you don't want to miss. Given just how much time and energy we just spent on those Halloween events, it's a little slimmer. *sad tuba*
Thursday
Friday
Saturday
Sunday
---
WHAT TO EAT & DRINK IN AND AROUND MONTREAL
Scope the latest restaurant openings, recommendations on where to eat, plus new menus, old classics, and everything in between.
"Who wouldn't want an iconic place like this in Montreal open?"
Restarted by Provisions Bar à Vin chefs and the Cloakroom cocktail bar, the restart of the Dominion Square Tavern's less of a reinvention and more of a revisit, drawing inspiration from both its last form and the one from when it first opened in 1927 as a hotel restaurant. (The Main)
---
Here, you'll find a weekly round-up of the latest local news, from entertainment to current affairs and more.
Honouring the departed
As the Mexican diaspora across Montreal adapts Día de los Muertos traditions to the ingredients, geography, and people here, they honour past ancestors, and perhaps in their own way, create traditions as ancestors of the future. (The Main)
---
Who asked for this?
The Régie des alcools won a case against a restaurant permit holder after calling into question how it was putting more emphasis on wine than food, even though bottle shop-restaurant hybrids like it are multiplying in the province. (La Presse)
---
A refusal to write
Montreal Gazette columnist Yara El-Soueidi is putting her collaboration with Postmedia on hold to protest against the dehumanization of the Palestinian people. Here's why she made that decision. (The Rover)
---
Exploiting service workers 🤮
As credit card machines prompt customers to leave higher tips at all kinds of businesses, some workers say point-of-sale terminals are making it easier for employers to pocket their hard-earned cash. (CBC Montreal)
---
Play it again, Sam
Months in the works and to be released Monday by the Parti Québécois, the analysis — said to be conservative in its forecasts — concludes Quebec "has the financial capacity" to leave the Canadian federation and fly on its own. (Montreal Gazette)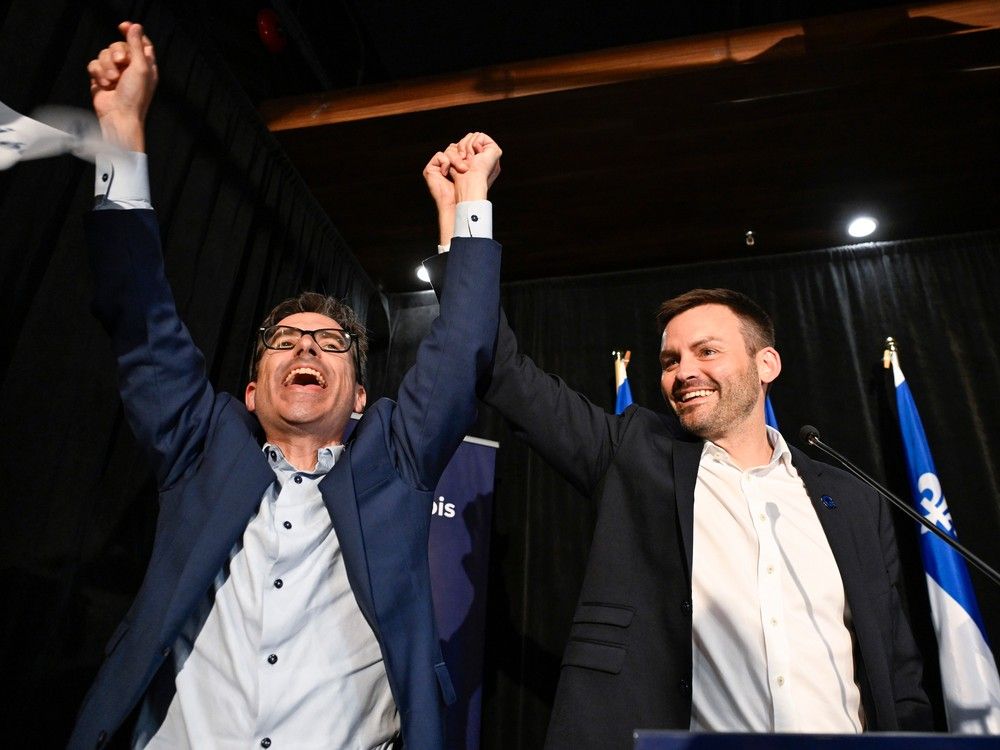 ---
The Great Montreal-New York Bagel debate 🥯
On a more light-hearted note, Montreal and New York City are both known for their bagels, right? Well, chalk one up for the 514, as it only took a couple bites to convince one New Yorker to deem our better than their doughy counterparts in the States. (Insider)
---
Yes yes yes
Maybe it's the photoshoot of this interview with Tiktok NPC sensation Pinkydoll, or maybe it's her desire to eat at Nobu Matsuhisa's globally-renowned restaurants with Cardi B, or the line "I love my boobies!!!!" but this was a fun read. (Interview Magazine)
---
Get up to s(p)ea(d)
The marine shipping route that links the Atlantic Ocean to the Great Lakes through a system of 15 locks between Lake Erie and Montreal has shut down after hundreds of workers walked off the job Sunday. (CBC Montreal)
---
I walk the line
One intrepid journalist decided to walk the entirety of the metro Blue Line's 12 stations above ground, from Saint-Michel station to Parc station, then Parc at Snowdon station. Thrills, chills, and photos from the walk await. (24 Heures)
---
And now, your history lesson for the week
Speaking of the metro, we thought we'd take a look back on the inauguration of its world-class system after it launched on October 14, 1966. We've got notes about its Paris connection, those old brakes that are dipped in peanut oil—everything we could find. (The Main)
---
And that wraps yet another weekly bulletin. We'll be back with more curiosities, local stories, and events to discover next week.
If ever you catch something we should know, don't hesitate to reach out to us on Instagram.