The Bulletin: Mafia patrons shut down a local brasserie, a Mile End landmark retrofit, a research school beach party, Montreal's new Holocaust museum, and other oddities [Issue #10]
From a pizzaghetti party and a fight club inside a swimming pool to local media seeing shutdowns and cutbacks and a Montreal-themed restaurant opening in Washington, D.C., this edition of The Main's Montreal Bulletin—a collection of what's happened, what's happening, and what's to come in and around Montreal—is going to be a weird one.
And not that we mean to sound like your parents, but try to stay warm during this weekend's cold snap. Those of you heading out can check this out for inspo:
---
Weekend events you don't want to miss

Friends or family visiting from out of town? Or just looking for a good time? We've got you covered.
---
What you need to know
A weekly round-up of the latest local news, from food and entertainment to current affairs.
Big cuts coming to one of the city's biggest newspapers
Postmedia announced that it would cut 11% of its Canadian editorial staff, but when it comes to the Montreal Gazette, that amounts to as much as 10 full-time writers—a 25% reduction of the newspaper's workforce. The upside is a predicted rise in community newspapers in the city. (CBC Montreal)
---
An iconic Mile End landmark's up for a total transformation
Mile End's peculiarly shaped Van Horne warehouse—topped with its iconic water tower that's been a symbol of the area's indie scene—is on designers' chopping blocks for a retrofit. Among the ideas are keeping its brick shell while drilling in windows and adding a front terrasse and rooftop garden. (La Presse)
---
The last meal for Eater Montreal
Following serious cuts to their workforce, Vox Media—the American media company which runs Eater—has decided to shut down their Montreal chapter after a decade of reporting on restaurants and bars in the city. This article on Portuguese chicken is its last update... for now. (Eater Montreal)
---
The design of downtown Montreal's new Holocaust museum
It's been less than week since International Holocaust Remembrance Day. With that in mind, take a moment to admire the design of the incoming new Holocaust museum scheduled to be completed downtown in 2025. From the look of the renderings, it's going to be a bold new space of learning and action. (e-architect)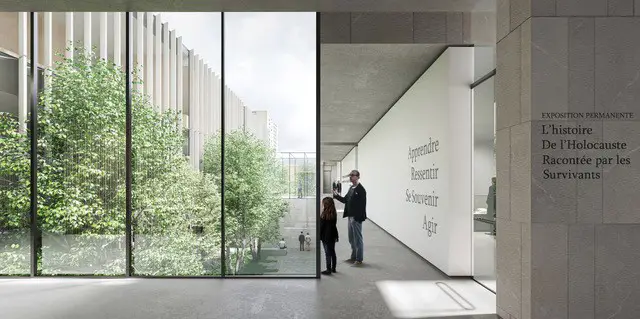 ---
Mafia patrons and cocaine in pockets shuts down a local restaurant
Downtown French restaurant, bar and cigar lounge Alexandre et fils has been shut down for 30 days following organized criminals, unmasked individuals after hours during the pandemic and cocaine in staff's pockets found in the restaurant. Sounds like a lot of places we know in town, though? (Le Devoir)
---
A public research university's infamous beach party
Unless you've studied there, you might not know that Polytechnique Montréal hosted an annual beach party. Following a pandemic-imposed hiatus, their legendary night of water slides, rooms filled with sand, and lots of EDM-fuelled dancing is back, big, and beachy. (Urbania)
---
The Montreal book man cometh
Those passionate about used bookshops have probably run into Adrian King-Edwards, the owner of The Word Bookstore. This is the story of his path from an underground shop that was raided by police to the Chinese laundry-turned-shop we know and love today that serves needy poets. (McGill Tribune)
---
How to build a foie-gras covered piece of Montreal in Washington, D.C.
A "Montreal-themed restaurant" with a menu inspired by Patati Patata has opened its neon, disco doors in the States. Sound weird? It kind of is: Serving dishes like poutine with foie gras and duck confit in a setting best described as one tourist's wild weekend in the city, it's a strange cultural export. (MTL Blog)
---
A 43-year-old institution of drunken student revelry calls it quits
The Latin Quarter's seeing a big change in its clientele. Nightlife in the area is reportedly dropping off, leaving the longstanding temple of cheap beer and underage drinkers to guzzle it, Le Saint-Sulpice, to close up shop. Its heritage building, however, is now up for grabs. (Le Devoir)
---
How one 69-year-old trans woman is living—and what it means for other trans seniors
Last fall, Vanessa Frey had to find a new place to live and turned to social workers for help, but they struggled to find her a place to live as they had no experience working with trans women, and every place turned her down. Her story shows how seniors' residences have a long way to go. (CBC Montreal)
---
And there you have it, folks. We'll be back with more curiosities, local stories, and events to discover next week. Stay tuned!
If ever you catch something we should know, reach out to us on Instagram.