The Bulletin: Forest fires rage on, housing crises continue, and more [Issue #31]
The Bulletin is a collection of what's happened, what's happening, and what's to come in and around Montreal.
Boris, the Montreal Gazette's cartoonist, drew his view of the city's skyline earlier this week. (Image courtesy of the Montreal Gazette)
Seems like the weeks are just flying by, doesn't it?
We're just days away from July and somehow it feels like June didn't even happen. We don't know about you but with all the smoggy, hazy days lately, there's a feeling in the air (besides the smoke) that we're all somewhat due to slow down a little, take a well-deserved vacation, enjoy what will undoubtedly be another summer gone by, and appreciate the late nights and early mornings where the sun (we think?) shines all day long.
We heard about these breathing techniques that are supposed to calm your nerves, especially with all that scary news out there. Want to try?
Okay, deep breath. Ready? One, two, three. Inhale, and exhale. Repeat. Didn't that feel good?
Now, back to business. Earlier this week, thousands protested in the streets against Bill 31, two days before Montreal was awarded the ungracious title as the city with the worst air quality in the world due to wildfires raging across the country. There's also been a lot of anxiety-inducing news surrounding housing lately—everything from banning lease transfers to the increasingly alarming situation of affordable housing, particularly as we approach annual moving day—but there's some good news, too. All of that is covered below.
As for events—even if you're still reeling from your Saint-Jean hangover, we're giving you fair notice: Get ready for a weekend chock-full of collaborative pop-ups, festivals, dance parties, live music, and so much more. Expect that to continue well into July, too.
So, as usual, sroll down, click on stuff, go see things, eat everything, and all that. And tell us all about it when you're done.
---
WEEKEND EVENTS YOU DON'T WANT TO MISS
Here's our curated list of happenings around town. Not seeing something you think we should know about? Hit us up by Instagram to let us know.
Thursday
Friday
Saturday
Sunday
---
WHAT TO EAT IN AND AROUND MONTREAL
This section dishes out the scoop on restaurant openings, new menus, old classics—you name it. If you know something you think we should know too, drop us a line on Instagram.
---
WHAT YOU NEED TO KNOW
ICYMI: A weekly round-up of the latest local news, from food and entertainment to current affairs and more.
You never know what's in your backyard
In a thrilling development, a series of archeological discoveries dating back to the 18th century were made behind Hydro-Québec's HQ in downtown Montreal. You won't believe what they found. (La Presse)
---
How do you solve a housing crisis?
With more and more people threatened by the rising cost of living—and in particular, housing—this explainer video provides the low-down on how it came to be, and what we can do to cool the flames. (CBC)
---
"We've got your back"
The mayors of 14 cities across the province have united to ensure the Quebec government receives the message loud and clear: Our cities are becoming unaffordable, and more is needed to ensure renters are protected from unjustified rent increases. (CBC)
---
Sustainable travel is back on track
In exciting travel news, the train line from Montreal to Gaspé suspended indefinitely in 2013 is set to return in another three years, thanks to a whopping $870M investment on behalf of the provincial government. If we could buy tickets right now, we would. (Journal Métro)
---
Remember when they said Rome wasn't built in a day?
The orange cone that has infamously become the unofficial icon, logo, slogan, persistent joke, and perpetual laughing stock is finally getting the heave-ho... well, sorta. Construction sites are now only permitted to place cones 24 hours in advance of the job, and remove them within 24 hours after completion—but critics worry it'll be hard to monitor. (Radio-Canada)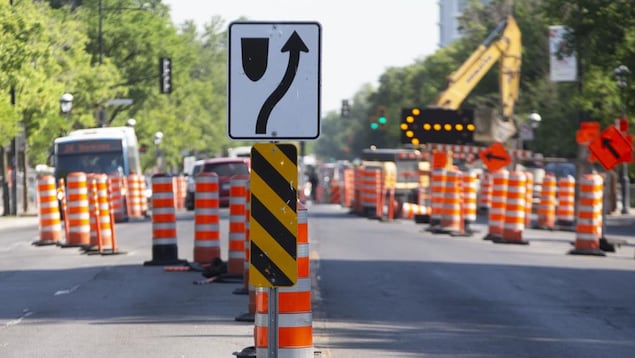 ---
New residences a welcome respite
As availability of rooming houses have been declining year after year, local organization Chez Doris will welcome 11 women into their new residence this weekend, which also offers psychosocial support. Meanwhile, in other news, developers have shared their plan for a new downtown student dorm. (CBC)
---
Victim of your own success
The city's bike sharing service, BIXI, has become so popular that–while it's breaking records–it's also leaving some people stranded. A significant number of bikes are also needing repairs, which doesn't help the situation. (La Presse)
---
He said, she said... uhh, then what?
Local non-profit Héritage Montréal is sounding the alarm over important remnants of Expo 67 that exist within the walls of La Ronde, and is asking Montreal to protect the site under heritage status. The city, however, is putting the onus on Six Flags. Around and around we go... (Journal Métro)
---
Ah yes, the famous King's Daughters
In this short documentary, a researcher takes it upon herself to set the record straight about Les Filles du Roi, who were sent over to Quebec by the King of France in the 1600s to help populate the colony. The issue isn't so much whether or not they were sent, but what were they actually wearing? (CBC)
---
Adopt me, adopt me!
As the cost of living continues to increase—and more people are discovering no-pet clauses in their lease agreements—it's often pets that are getting left behind, and this time, it's in record numbers. Take it as a sign that now's your chance to welcome a new furry friend into your home. (CTV News)
---
And that wraps yet another weekly bulletin. (Don't know about you, but, we're pretty stoked about 31 issues!) We'll be back with more curiosities, local stories, and events to discover next week.
If ever you catch something we should know, reach out to us on Instagram.
Thanks for reading.
You made it all the way to the bottom!