The Bulletin: RAW WINE Fest is back, RIDM International Doc Festival, Google's new office, and more [Issue #1]
Welcome to the Montreal Bulletin, a weekly thread on what's happening, what you might have missed, and what's to come in Montreal.
---
Hey, you.
This week's equal parts live music, wine-drenched festivities, art fairs, and slighted local businesses—in other words, an average weekend in the city.
If you enjoy this, forward it to a friend!
---
This Weekend's Events
Enjoy the snow while you're at it: Forecasts are calling for as much as 10cm of winter this week.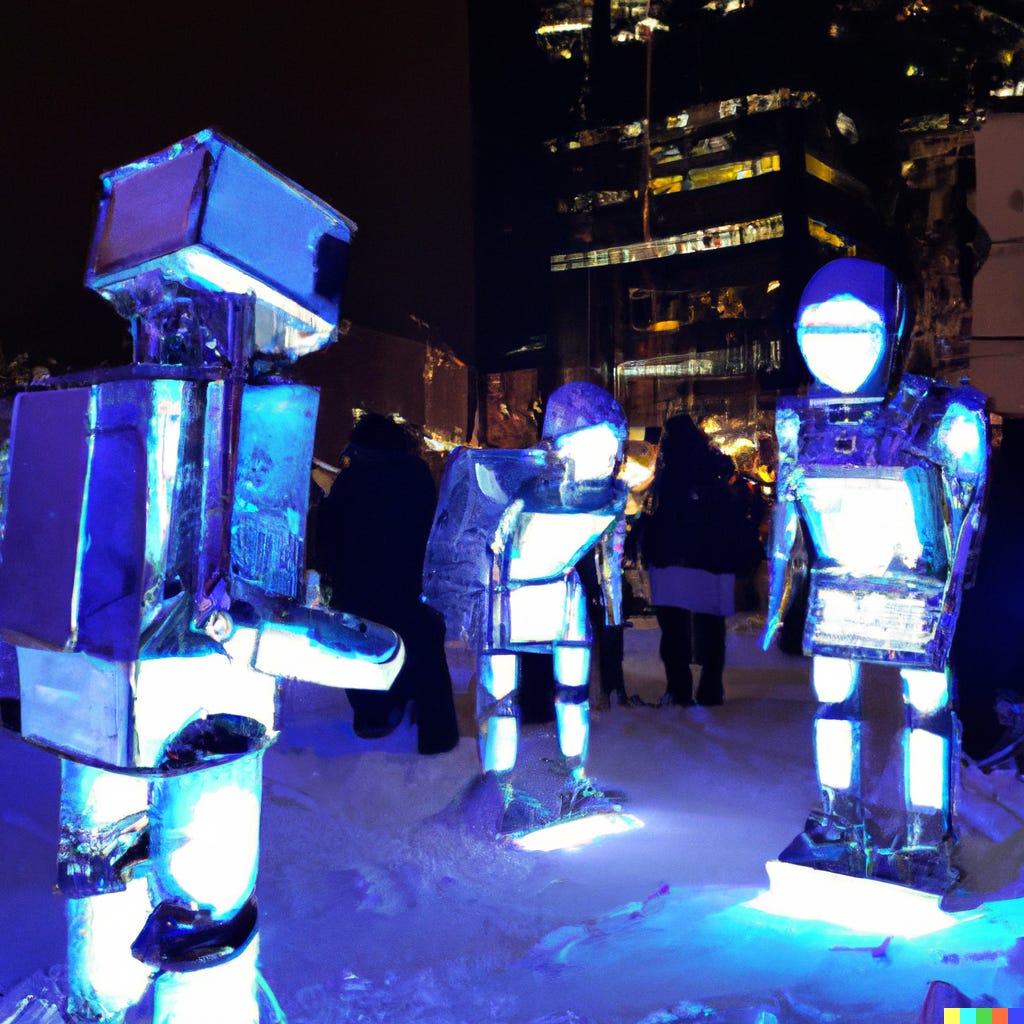 This image was generated by AI.
Montreal: What you need to know
---
In this newly released six-part docuseries, chefs get real and raw about how their lives were upended overnight by the pandemic, and how they've been picking up the pieces ever since. It's uplifting, heart-wrenching, and thought-provoking all in one. (link)
---
After almost three decades at their downtown address, local falafel and student cheap eat destination Nilufar found out they're being evicted through some pretty shady means. (link)
---
The Minirail, built for Expo 67, is currently being dismantled at La Ronde. Why should you care? The city wasn't consulted, and it's but one of many examples of the city losing its heritage patina. (link)
---
Saint-Henri's canalside bar Riverside won't close up shop for winter just yet, as its pop-up winter event Hiverside is returning with a giant igloo and drinks served up in carved blocks of ice. (link)
---
The fangs of the holiday spirit are sinking into the city's neck, and you now can get ahead on where to enjoy the best Christmas markets from now until NYE. (link)
---
Crescent St. has long been home to the loudest and drunkest patrons the city's ever seen, but NIMBY residents—big surprise—are starting to complain. The city says it has a solution, however. (link)
---
Google has officially opened its 100,000-square-foot, five-floor office in Old Montreal's historic Read Building, dating back to 1910 when the neighbourhood hosted the city's printing industry known as Paper Hill. Worth a read for architecture and purpose. (link)
---
The housing crisis continues in Montreal, and its urgency is hitting a fever pitch. Read about testimonies of harassment and sexual violence from private landlords, lack of viable dwellings, and more deplorability with this signed letter. (link)
---
Risen drag star Barbada de Barbades lays out her picks for nightlife spots, bookstore, and more in the city—spoiler, you probably won't guess what her favourite restaurant is. (link)