The Bulletin: Festival season is officially upon us [Issue #26]
The Bulletin is a collection of what's happened, what's happening, and what's to come in and around Montreal.
The Great Antonio Barichievich was known
for pulling Montreal buses around
. / Photo: Courtesy of McCord Museum
Festivals beginning. Line-ups announced. Street closures. Reunion tours. Revved engines. 30 degree weather that's about a month early. That guy popping off bottle rockets in the middle of Jarry Park at 4 a.m. (you know who you are!).
There is a moment during what the calendar calls spring in Montreal that preemptively becomes summer. Call it a vibe, or a switch we flip unconsciously in our collective head: We shed layers, we grab roadies from deps, we strike up conversations with strangers, and suddenly everything gets a whole lot sexier.
That's all in keeping with this week's news, as events have expanded to include (gasp!) Thursdays and our stories largely point to how we could be more or how we're doing more. There's so much happening on Sunday alone that you may need to clear your calendars entirely.
Speaking of which: See you in that field of 10,000 sunflowers.
Read on for more.
---
Weekend events you don't want to miss
Not seeing something on the list you think we should know about? Hit us up by Instagram to let us know.
Thursday
Friday
Saturday
Sunday
---
---
What you need to know
ICYMI: A weekly round-up of the latest local news, from food and entertainment to current affairs and more.
All that could have been
Using one of the latest engines for 3D visualization, Moshe Safdie and his architecture firm have been able to digitally recreate Habitat 67 based on its original concept that was first envisioned 56 years ago. (Unreal Engine)
---
Money can't buy happiness, but it can pay for plastic surgery
After a decade of delays, the city is finally getting the recovery of decrepit, overgrown, crumbling urbex gem that is the former public plaza and open-air amphitheatre known as Place des Nations off the ground. Here's why you should take one last look at it. (Cult MTL)
---
Nationwide initiative aims to save indie cinemas
As streaming services and large entities like Cineplex continue to dominate the lion's share of the cinema industry, the Network of Independent Canadian Exhibitors is calling on citizens to write to their local politicians to make sure indie theatres can survive—and overcome–some of the current barriers. (The Main)
---
DESTRUCTION PORN 🤘
Well, sort of: The city's biggest earthquake on record from September 16, 1732 is helping researchers predict the impact if another one struck today. Why? Montrealers may not realize it, but eastern Canada is one of the country's regions most prone to earthquakes. (Montreal Gazette)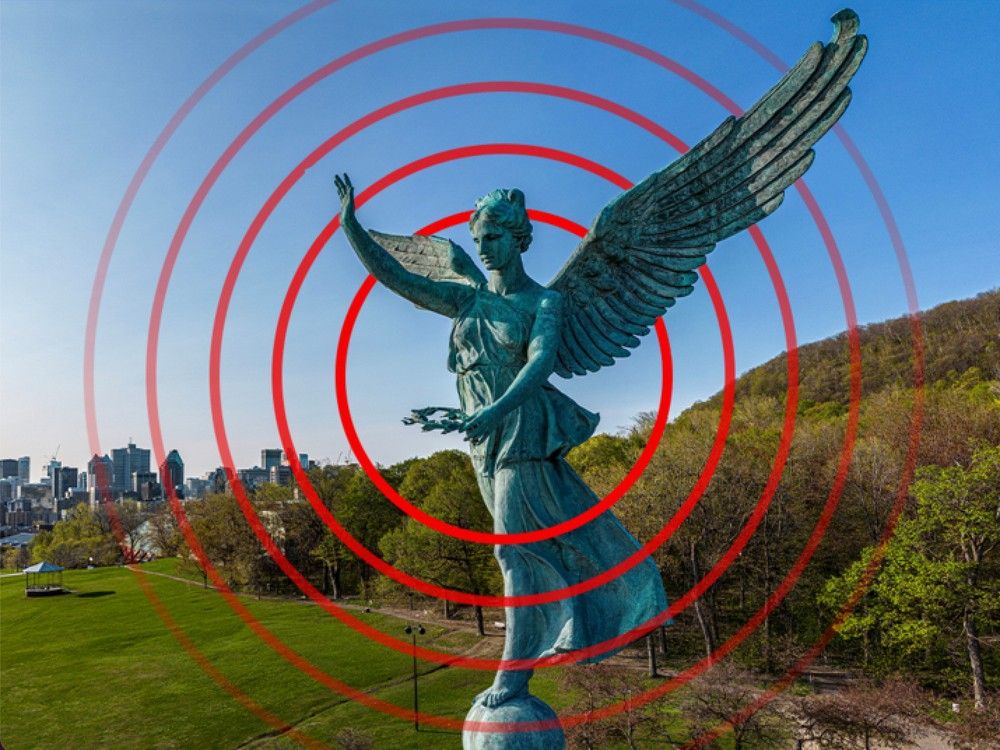 ---
There's an app for that
"Parky AI", a new tool to help decipher Montreal parking signs, was born after the company's CEO got a parking ticket that he blamed on confusing signs. While that might seem comical, it was downloaded 10,000 times in its first week. (CTV News)
---
I am the night.
Following largely successful parties that permitted dancing and alcohol well past the limits of your average bar, organizers are saying that Montreal is not doing enough to support a nightlife scene that could be far more vibrant than it already is. (Le Devoir)
---
It's basically art at this point
The dilapidated century-old buildings at one entrance to Old Montreal are proving to be a thorn in the side of developers and politicians. In the hands of the Palais des Congrès, demolition is being considered despite their heritage value. (La Presse)
---
If you grow them, they will come
Part of a larger, five-year urban development plan to attract businesses and people, north end Montreal's La Prairie Louvain is hoping that 10,000 sunflowers will draw us all in to the Ahuntsic–Cartierville borough this summer. (CBC Montreal)
---
Take a bite outta the clouds
Since closing the observatory on the 45th and 46th floors of the PVM in 2020, Ivanhoé Cambridge (the folks behind the Le 9e's revival in the Eaton Centre) has made plans to turn it into the cheekily-named three-floor dining option Hiatus, all part of a bigger plan to revitalize the downtown core. (Cision)
---
One of the legends
On this day more than 40 years ago, the Gazette ran a photo on the front page showing the Great Antonio Barichievich doing one of his famous public stunts: Pulling buses by chains. That led us to find this documentary on the strongman and professional wrestler who died in 2003. (YouTube)
---
Posts of the Week
Our favourite moments from Twitter.
---
That wraps up this week's edition. We'll be back with more curiosities, local stories, and events to discover next week.
And if ever you catch something we should know, reach out to us on Instagram.
Thanks for reading.
What does Snoop Dogg eat when he's in Montreal? Smoked meat every day.